The Chinese technology giant is participating in the race to win the tender for the Civil Registry's new identification system, identity cards and passports.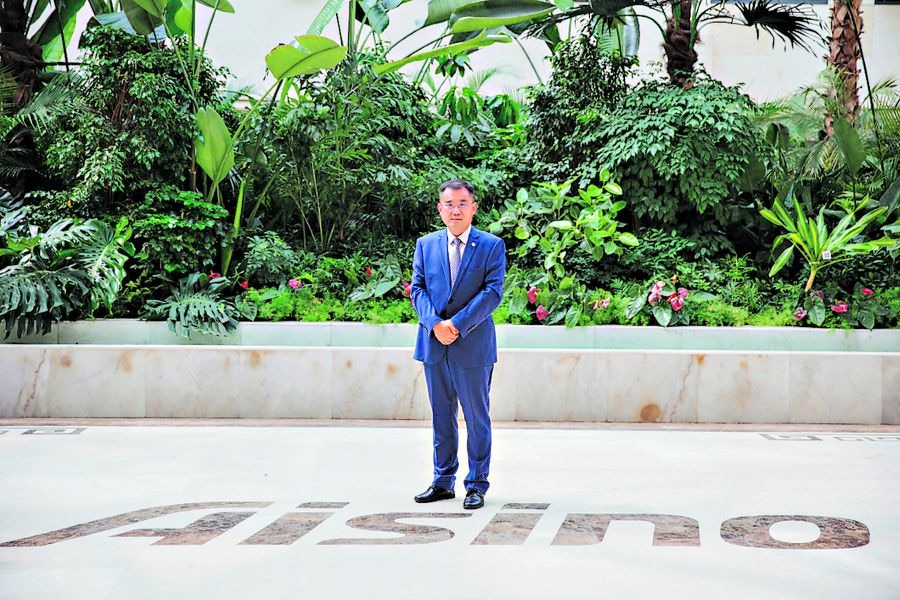 Although not well known in Chile, Aisino is one of China's five largest technology companies, along with Huawei, Alibaba, Xiaomi and Tencent. Its core business is information security, with a focus on the financial sector, the internet of things (IoT) and fiscal digitization. In fact, it has quite a few contracts with governments around the world.
It is precisely this line of business that explains the company's recent interest in Chile. It is one of the companies participating in the tender for the Civil Registry's new identification system, identity cards and passports, a process that, in the past, has not been without controversy as regards the bidders. Aisino emphasizes its credentials: founded in 2000, it listed on the Shanghai Stock Exchange three years later. Its headquarters are in Beijing and it has more than 20,000 employees. By the end of 2018, it had raised 55,000 million yuan (US$7,835 million) in capital.
From China via a video call, Ma Zhenzhou, vice-president of Aisino Corporation worldwide, explains his vision of how Asian multinationals are navigating the pandemic. "Covid has had very important impacts on all aspects of life, not only public health but also IT systems and cybersecurity. But, for high-tech companies like ours, this represents a great business opportunity," says Ma Zhenzhou, who is also vice-president of the China Information Industry Chamber of Commerce.
How should governments be investing in technology from now on?
- They will have to invest more in IT because the pandemic has affected the life of society. They must teletransform more services to make them digital. We have moved from an agricultural to an industrial civilization and now to an IT and digital civilization. In this context, governments have to respond to that trend. For example, we are now doing this interview online and perhaps the signal is not very good. If the government invested more in 5G, the transmission speed would be much higher. And that is, precisely, a way to serve people better.
Since you mention 5G, should its implementation be brought forward given the high demand for connectivity during the pandemic?
- Obviously. The sooner the better. Each government is addressing this differently, depending on their specific economic and social projections. Personally, I hope 5G will be implemented as soon as possible.
How does a multinational like your company see investment in the coming years in light of the economic crisis?
- Technology always helps people but, in the current economic context, there are protectionist trends. However, that does not change our investments. Currently, Aisino's largest market is in China. We also have investments in Africa, Europe and the Middle East, but are giving great importance to Latin America. It is a region that is growing very quickly and has great economic vigor. We must increase our investment in Latin America, particularly Chile.
Why Chile?
- Because it continues to be the region's technological leader. We want Chile to be the base from which to expand our business in Latin America.
What do these investments consist of?
- We have them very well defined. We will establish an office that will focus mainly on improving the level of international services. In fact, we are already cooperating with some related sectors, mainly in smart agriculture.
When will you open the office?
- This year.
Biometrics
You are a company that specializes in identification systems. Will this area change as a result of the pandemic, specifically as regards online identification?
- Many technology and business services are going to use the cloud because there are many activities that are difficult to conduct face-to-face. In this context, cybersecurity is even more important and biometrics is an essential link in the chain. Biometrics will become common in different areas of life.
What other technological trends will we see in the near future?
- Self-service because, in a pandemic, there are procedures that clients do not want to carry out in person, but automatically and online. And that leads us to the other trend which is the centralization of information in the cloud by the state. These trends cannot be separated from biometrics because they are needed to authenticate identity, as in the case of fingerprints, irises or the face.
Will biometrics be stronger on mobile devices then?
- A cell phone is only a portable terminal. In the future, it may not even be necessary. People will only be subject to biometric identification when leaving their homes. They will even be able to be anywhere in the house and turn on the light or their car with their faces or their fingerprint.
Source: Pulso
To find out more about investment in global services in Chile, read this article.