During InvestChile's e-seminar, Minister Palacios talked in detail about the measures implemented to foster economic reactivation.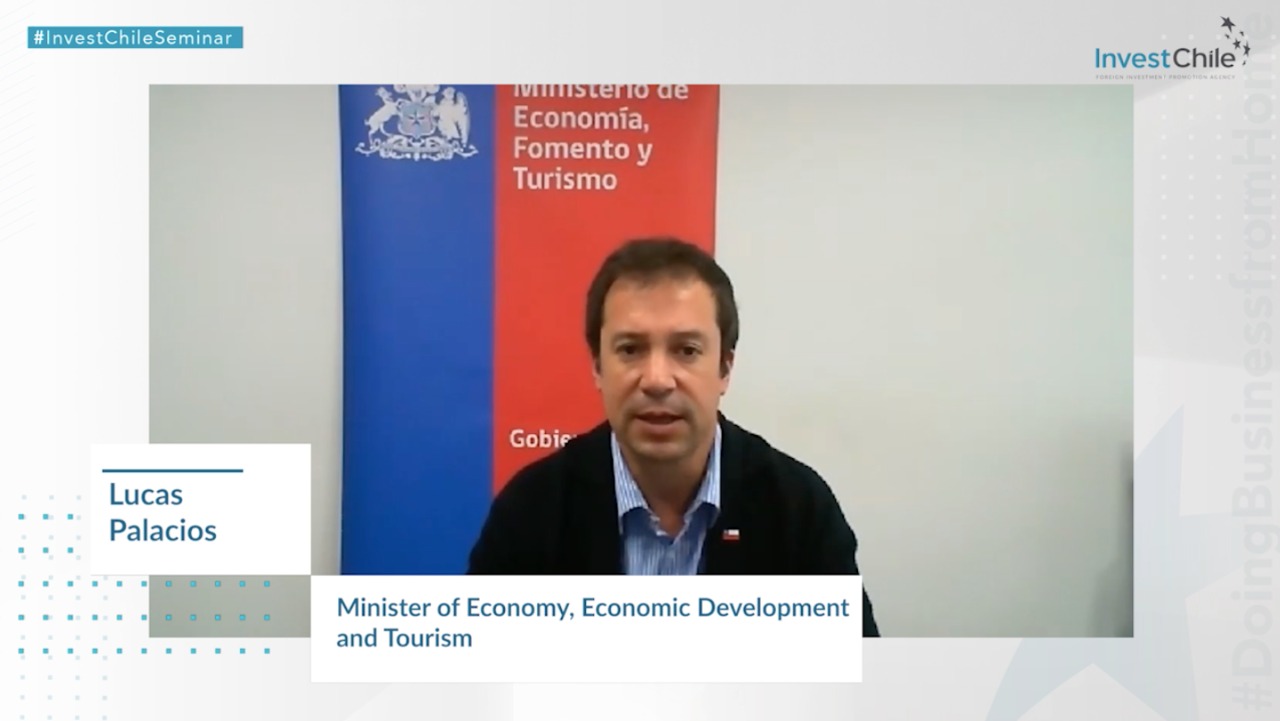 Chile's Minister of Economy, Economic Development and Tourism, Lucas Palacios, talked this week about the impact the pandemic has had on the country and the measures the government is implementing to reactivate economic activity.
Speaking during the e-seminar "Chile: Re-boost to Investment and New Business Opportunities", Minister Palacios reviewed the economy's performance in recent months, describing it as "resilient", and talked about the programs the Economy Ministry has been implementing to mitigate the impact of Covid-19 on different fronts.
He stressed that "the pandemic had a very strong impact on employment. Two million jobs were lost but, in recent months, we have recovered 300,000." He emphasized that "the timing and scale of the social and economic measures have been crucial for the speed of the recovery of activity" and compared the government to a "start-up" in terms of the need to innovate and seek new mechanisms through which to implement measures.
The package of measures implemented in Chile, he noted, was equivalent to 8.7% of the country's GDP, ahead of spending in other Latin American countries and the support provided in countries like Germany and France. The measures were divided into an Emergency Plan, which was implemented to compensate families for their lack of income, and a Reactivation Plan, which aims to support different industries and SMEs in resuming their activities.
Minister Palacios drew attention particularly to the role that investment will play in economic reactivation and reiterated the government's commitment to the development of new business. "We do not want to be a country that deepens bureaucracy, but one that facilitates investment; that is a good partner," he assured.
Watch the Economy Minister's presentation in this video.
To learn more about the economic recovery and investment opportunities in Chile, check out the following article.