According to the company's senior executive in Chile, there are high expectations of the government as regards new development of public works.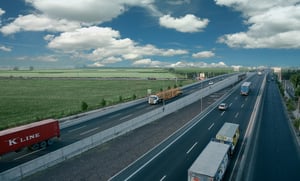 The strategy of Spain's Acciona is to continue growing beyond its home country, a plan in which Chile has a crucial place as a business platform for this part of the world. Diego Pini, the company's director for Chile, who is responsible for its construction, water, industrial and services areas, says that its intention is to continue growing its important portfolio of projects.
To this end, he adds, they are waiting for the new government to settle in and define its priorities in order to go after projects. As it reported when announcing its results, the company is also seeking to venture into concessions in new markets such as Argentina and Uruguay, which it would do from Chile.
What is the reason for the interest in the local market?
Chile has traditionally been a powerful market for the company. All our areas of business are represented here. With the Vespucio Sur and Ruta 160 concessions, we have already completed the cycle of sale of assets and are looking at other opportunities to again have projects related to mining, water and energy.
The country has become a pole that makes it an important market for any international firm. We are here to stay because stability is a relevant factor compared to other countries.
Since 2014, our level of activity in Chile has quadrupled. It is also true that projects are ever larger, but there is more activity. We have centered our operations here and attend Peru, Argentina, Ecuador, Uruguay and Paraguay from Chile.
In a presentation, Acciona said it is seeking to enter new markets like Uruguay and Argentina. What things are you looking at?
Uruguay is a small market with specific opportunities. We are looking at the central railway, which is a concession from the center of the country to the port of Montevideo. Argentina has a very ambitious plan of transport concessions and in water treatment in Buenos Aires and the rest of the country. In Peru, we are waiting for the political situation to regularize in order to promote private initiatives. The region offers many opportunities.
In Chile, do you anticipate higher levels of activity now that the new government has taken office?
There are very high expectations and very good prospects. There is known to be an infrastructure deficit so there is much to be done. Chile's hallmark, regardless of the government's political color, is that it is the best at implementing long-term policies because it looks beyond the immediate situation. We are very hopeful that the increase in positive expectations will boost investment in infrastructure, whether in the form of concessions or public works implemented directly by the government.
Could there be an important boost with the new government?
It is clear that this government will use all the mechanisms at its disposal to build more infrastructure. Governments are measured by the quantity of infrastructure they develop. The previous one didn't do badly and this one has the opportunity to continue along that road. The will is there and there are many interesting projects. I think this government will use the option of concessions. We really like concessions as well as public works in general and are comfortable with both models. Once the government has taken the political decision about how it wants to implement a project, we will be there.
But you haven't been very successful in recent tenders...
When projects are unveiled, you look at their typology. It can be a road, a prison or a hospital, but the result is long and intense study to develop the engineering. As you work on that, you take a decision about the project and sometimes what seemed interesting, turns out not to be. The goal of any company is to make money and you have to look for projects that are profitable.
Is that what happened with AVO II where finally you did not bid?
That was a process that, when it started, seemed very interesting. We have a lot of experience with tunnel boring machines but this project, as it was planned, was not very suitable for tunnel boring machines. We did the studies and found it didn't seem that interesting.
Are you thinking of modifying your strategy so as to win more projects?
Not at all. We have the level of activity we need and with very good results. We look for interesting projects, with appropriate conditions, where we can deploy synergies with the teams we have. We are satisfied with our growth, our position and the results.
Are you focused on any particular sector?
Being such a diverse company, we are interested in transport, airport and water projects. We are very hopeful about what is happening here. We are looking with great interest at the development of underground mining projects like the New Mine Level and the projects that will go out to tender this year.
Eyes on services to airlines: from 600 to 50,000 flights in two years
The latest of Acciona's divisions to arrive in Chile was its services division which, over the last year, has grown explosively, thanks to the handling services through which it provides airlines with a complete range of services, from the check-in procedure through to the use of passenger boarding bridges, excluding only the operation and maintenance of the airplanes.
The latest boost to the sector took the form of its acquisition of Andes Airport, a former subsidiary of Latam Airlines, for US$38 million, a transaction that was approved by Chile's anti-trust authorities in January. Once it takes over the company in April, Acciona will handle 50,000 flights per year, up from just 600 two years ago, giving it a 60% market share.
In 2017, thanks to an association with JetSmart, the company had already completed 12,000 flights, taking its services to the cities of Calama, Antofagasta, Concepción, Temuco and Valdivia.
"The market is large. Chile is a powerful regional hub that shouldn't be ignored. Peru is a little larger but comparable; Argentina is emerging from historical crises and airport activity is growing, but they are a little bit behind with the low-cost phenomenon seen here," explains Pini.
Acciona's plan is to look closely at the new airlines that are starting to operate in the country as potential clients and at the appearance of flights between regions as a means of taking advantage of the synergies of its teams at the different terminals.
Overall, the company's aim is to continue growing in this market, either organically by adding new services - such as the management of VIP lounges and airports - or through new acquisitions for the personnel-intensive division. Indeed, it already accounts for a third of the almost 5,000 employees the company has in Chile.
"There are opportunities to expand services to existing clients and to incorporate new clients, not only in Chile but throughout the region," they say.
Regarding the problems seen at the Santiago airport due to its expansion, Pini points out, although undeniably creating problems, this is a necessary process. "To the extent that it is transformed into what the project envisages, it will be a spectacular airport once it is built," he insists.
In the services segment, Acciona has also explored logistics through its Forwarding subsidiary, which provides different types of freight transport from the import of construction equipment to the export of fruit.
Source: Diario Financiero