An attractive export-geared market is part of what Chile offers overseas companies in sectors as different as pet food and packaging solutions.
Chile's food exports reach over US$16,000 million and today it is a business center for the production and distribution of processed foods, with over 100 multinationals operating in the country. It also has a robust trade network, thanks to its 26 trade agreements which permit privileged tariff access to a total of 64 markets that account for 86.3% of global GDP.
These characteristics have contributed to the enormous increase in the sophistication of Chile's food industry over recent years. The country is now one of the world's 15 largest agricultural exporters and has positioned over 50 products in all the markets it serves. This leadership attracts investment not only in more traditional food production but also in support industries and non-traditional products as well as packaging.
The case of Nestlé and pet food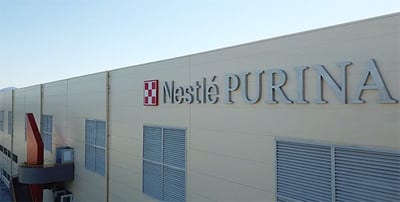 Until very recently, Nestlé imported all the Purina pet food it sells in Chile from Argentina and Brazil. However, following the start-up a few weeks ago of its new factory in Teno in the Maule Region, the company will produce 65,000 tonnes of pet food a year locally, equivalent to 80% of its volume of sales in the country.
The company has indicated that the plant - which also includes a Distribution Center with an area of more than 10,000 m2 - represented an investment of US$120 million and will be the most modern in the Chilean market as well as the most modern for the company internationally. Its characteristics include the supply of 100% of its electricity from non-conventional renewable sources.
"Nestlé sees great potential in Chile and that is why we will now produce locally the pet food we previously imported. We know that the country has the suppliers, workers and technology to be a focus of innovation in the region," said Laurent Freixe, Nestlé's Executive President for the Americas.
The new Nestlé Purina factory will produce exclusively the dry food of its traditional brands for the local market and for export to some other Latin American countries.
Gualapack and its flexible packaging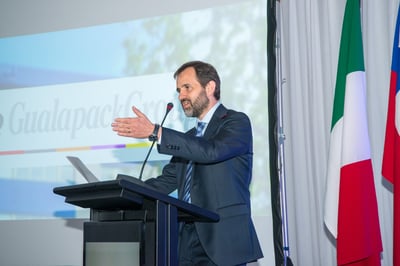 In another field, Italy's Gualapack, a world leader in flexible and other packaging solutions, has invested US$8 million to build its first plant in Chile. This is its fourth in the region after those in Mexico, Costa Rica and Brazil.
In Chile, the company will produce spouted pouches for food and non-food products and non-spouted pouches and, in future, caps (injection molded). At present, its clients in Chile include Carozzi, Dos Caballos, AMA-Time and Purefruit. From Santiago, it also hopes to distribute its products to strategic partners around the region as well as in Chile.
Michele Guala, CEO of GualapackGroup, said that "since 1990, Gualapack has grown, first in Italy, then in Europe and then internationally, and today is a group with sales of some US$300 million and approximately 1,700 employees that operates nine production plants and has a global presence through alliances in China and the United States. Our strategy for the coming years is based on maintaining this growth and, in this strategy, Gualapack Chile plays an important role in the American continent."
Similarly, Salo Himmelstern, CEO of Gualapack Latam, said that "Gualapack's strategy has been based on serving the market niche of packaging for food for children. We have seen this market grow so much that the Group decided to pursue its internationalization plan, expanding its presence through this plant in Chile, which positions us strategically to serve the South American market even better."
To learn more about how to set up a business in Chile, please download our Investor's Guide from this link: