The Bank's agency will focus on Chinese investment in Chile, local firms in key sectors and Chinese and Chilean exporters and importers.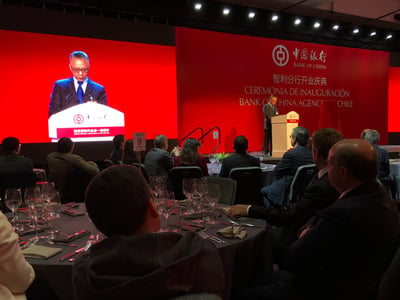 The interest of Chinese investors in Chile is growing. In recent years, important Chinese companies have invested in the country's agribusiness, energy and mining sectors and the specialized financial services sector is not far behind.
This week, Bank of China inaugurated an office in Chile, becoming the second Chinese bank with an agency in the South American country.
"Chile has always been an overseas market to which Bank of China attaches great importance," said Chen Siqing, Chairman of the Board of Bank of China, during the inauguration ceremony in Santiago. "The opening of this agency in Chile seeks to promote the development of economic and commercial cooperation and investment between the two countries and to use the force of finance to strengthen friendship between China and Chile, fostering cooperation that is mutually beneficial for the two countries," he added.
The agency's focus will be on Chinese investment in Chile, local firms in key industries or sectors and Chinese and Chilean exporters and importers, offering a range of products that include commercial banking and the financing of foreign trade in order to contribute to the development of bilateral economic and trade ties.
"Bank of China plays an essential role in the promotion of investment overseas by Chinese companies," noted Xu Bu, China's ambassador to Chile.
Economic relations
Xu noted that, for the past five years, China has been Chile's largest trading partner and that cooperation as regards investment is becoming the new focal point of business between the two countries.
"I am convinced that Bank of China will play a positive role in promoting the deep development of economic and trade relations between China and Chile and in deepening bilateral financial cooperation," said Xu.
"The inauguration of this office is a new milestone in commercial relations between the two countries. Four years ago, there was no Chinese bank in Chile but, together, we have made an effort to achieve this goal. I am sure that the arrival of this bank will mean an increase in Chinese investment in Chile," said former Chilean President Eduardo Frei, who is also the country's special ambassador for Asia-Pacific.
"I welcome the presence of the Chairman of the Board of Bank of China because, by being here, he is giving a strong and clear signal of the interest of Chinese companies in investing in the country (...) This relationship is win-win for the two countries," added Frei.
Concluding the inauguration ceremony, Chile's Public Works Minister Juan Andrés Fontaine welcomed the arrival of Bank of China and expressed the hope that its opening in Chile will help strengthen bilateral economic ties.
Bank of China was founded in 1912 and is China's most internationalized and diversified financial institution. With its new agency, it now covers 55 countries and regions.
In June 2016, China Construction Bank opened an office in Santiago, becoming the first Chinese bank to have a presence in Chile.
It is important to note that InvestChile has Chinese personnel who can provide specific information about different sectors and help companies to organize meetings with the key players of the industries in which they are interested in Chile.
Source: Xinhua