Now with a presence in more than seven countries, the company started its global operations eight months ago and its Chilean operations less than two months ago. The company promises delivery in less than 15 minutes.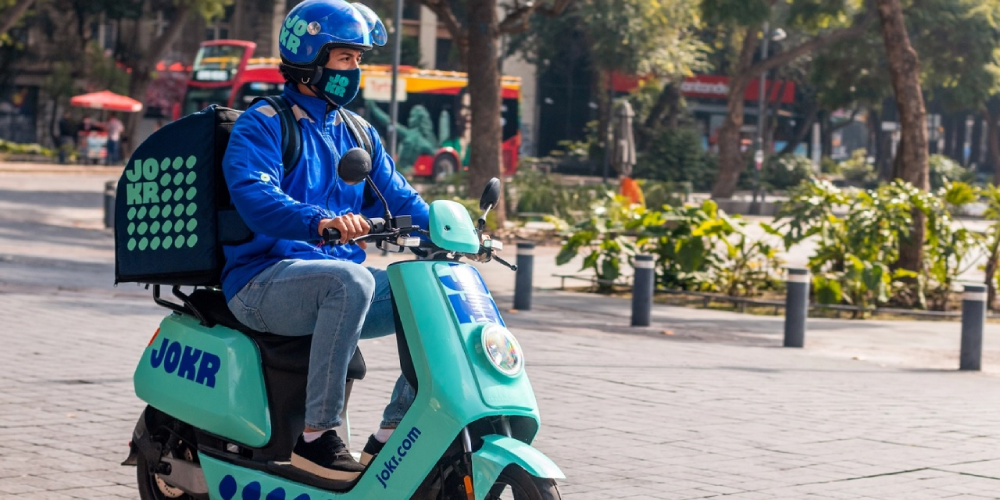 Foreign last-mile delivery companies continue to invest in Chile. Amid high competition in the delivery business, with new players seeking to gain a presence in the industry, JOKR is one of those looking for fast growth in several markets. JOKR is a delivery platform born in March 2021 as a startup owned by the German entrepreneur Ralf Wenzel, the creator of FoodPanda, which arrived in our country in October.
The company, which offers more than 1,000 products through its app, including those from local entrepreneurs, announced completion of its US$260 million Series B funding round. As reported, this transaction places the company's value at US$1.2 billion.
According to Gonzalo Pozo, the company's co-founder and CEO for South America, "the region's history has never seen a company become a unicorn in less than eight months. For us, this validates what we're doing."
The funding round is backed by several technology investors, including Activant Capital, Balderton, Greycroft, GGV Capital, G-Squared, HV Capital, Kaszek, Mirae Asset, Monashees, Moving Capital, Tiger Global and others. In addition, Ralf Wenzel, the company's CEO and founder, as well as other co-founders, have once again made personal investments as part of this round.
Mr. Pozo notes that this will allow the company to grow in Latin America and the United States, as well as to focus on expanding to new cities.
"We're more than a delivery app. We like to call ourselves the future of retail, because we have full integration of the retail chain. We buy products through our direct relationships with brands, we take them to neighborhoods and we make the deliveries," Mr. Pozo says about their business model.
JOKR operates through its own distribution centers or "hubs", where products are stored. The company has a presence in some European cities, in the USA and in other countries in the region, such as Brazil, Mexico, Peru and Colombia. In total, it operates in 200 locations.
German investment in Chile
In Chile, JOKR has operations in Las Condes, Ñuñoa, Providencia and Santiago Centro, and is looking to expand to other regions of the country.
"Our concept is similar to dark store. We use our own technology so that when a consumer places an order, we immediately organize the information for picking the products in these hubs, packing them and delivering them to the customer's home. Today, all of this takes less than 15 minutes. In Chile, a significant percentage of our orders are completed in less than 10 minutes," Mr. Pozo says.
Regarding their plans for Chile, he stresses that they want to keep growing, considering that the market "is very strategic". He adds, "Santiago is a city with very developed commercial activity, user penetration, mobile internet, retail transactions, purchasing power… it's a very important city for Latin America."
Work relationship with delivery drivers
JOKR aims to differentiate itself from other delivery services because its workers have a formal contract in Chile.
"Our delivery drivers are part of the JOKR team, they work for us, they are contracted. This allows us to provide them with good working conditions and also ensure that these conditions translate into excellent service. We have chosen a virtuous cycle," the executive states.
"For us, there is an employment relationship between delivery drivers and applications in Chile," he adds.
During the last investment roadshow carried out by InvestChile in Europe, InvestChile Managing Director Andrés Rodríguez met with the company's representatives in Cologne, Germany, to discuss the company's business plan and how the agency can support them to keep growing in Chile and Latin America.
Do you want to learn more about last-mile digital services in Chile? Check out the following article.
Source: Diario Financiero