According to a study by the Newmark Knight Frank consultancy company, office rentals in Santiago average US$24.32 per square meter.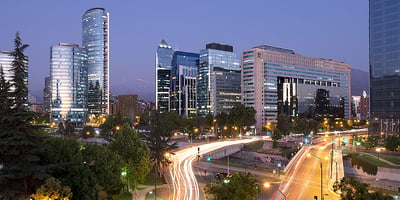 On the cost of office rentals, the Chilean capital ranks fifth, after Río de Janeiro, Sao Paulo, Buenos Aires and Mexico City, with rentals that are slightly above the regional average of US$22.94 per square meter.
The report also highlights Chile's economic situation, particularly year-on-year growth in November (3.2%), the 2.9% increase in mining output and the 30.1% increase in the price of copper in 2017, as having a positive effect on the office rental market.
According to the data gathered by the consultancy company, high demand was reflected in a vacancy rate that, at 5.7% in 2017, was the lowest in Latin America.
Referring to the conditions for renting office space in Santiago as compared to other cities, Ignacio Errázuriz, Newmark's consultant for Chile, told the El Mercurio newspaper that the city has a quite mature office market, unlike other South American markets, and "in some way, has tended to stabilize rents and vacancy because, basically, economic agents have already internalized the surface area that will be demanded in the future."
To learn more about why overseas companies are establishing operations in Chile, download our publication, "Chile, the place to build your future".