Almost 25% of the country's electricity is now supplied by non-conventional renewable sources. The future of energy is green, and all the energy that Chile needs could come from clean sources by 2040.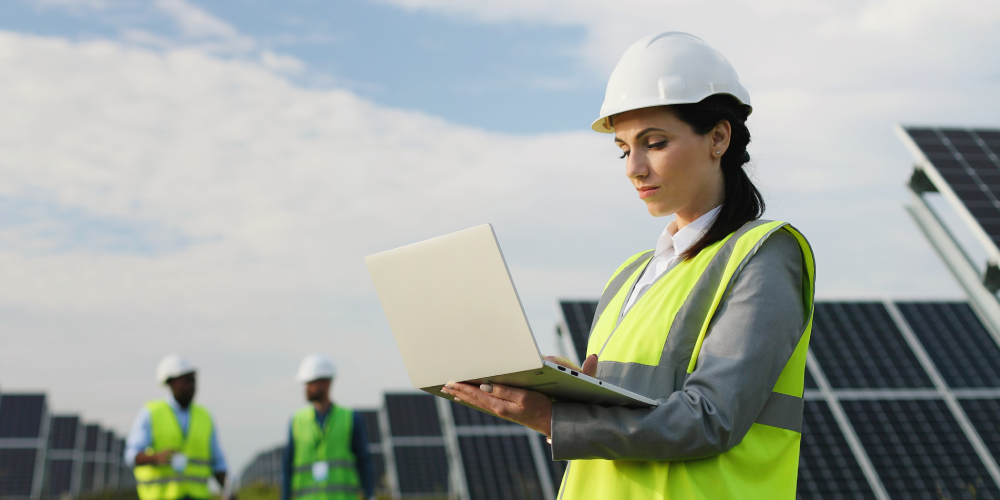 The Atacama Desert is the driest in the world; it is also the area with the highest level of solar radiation. This has led to the installation of 10,600 mirrors, better known as heliostats, in the shape of a flower, which blend into the landscape.
And they move to the rhythm of the sun.
A far cry from the curtain of black smoke that is typically associated with a power plant, this is the image of Latin America's first thermosolar plant. The heliostats reflect sunlight onto a receiver, which heats molten salts in its base, which in turn ignite a boiler, and this ignites a turbine. The steam that moves between them and a storage system will allow the project to generate energy 24 hours a day. The plant will produce enough electricity to power a city of 380,000 homes. But that is not all. It will also prevent the release of 640,000 tons of carbon dioxide emissions into the atmosphere each year.
Spain and the United States currently have the greatest installed capacity of thermosolar energy. Yet this thermosolar plant is not located in either of those countries. It is in Chile.
The community of María Elena can be found 60 kilometers to the north of Calama. The same community that became famous at the turn of the 20th Century during the saltpeter boom is once again enjoying international fame. It is now Chile's new energy epicenter and the site of this solar field, called Cerro Dominador.
Foreign investment in Chile
Latin America's first thermosolar plant was opened in early June 2021. The project was built for EIG Global Energy Partners by a consortium made up of the foreign companies Acciona and Abengoa. It is able to generate 210 megawatts (MW) of clean energy.
This project is part of a commitment to strengthen Chile's new renewable and sustainable energy matrix and to speed up the process of decarbonization. The objective is to move towards a future that is more environmentally friendly.
"Cerro Dominador is a clear example of how technology is advancing. It is Latin America's first thermosolar plant that allows one hundred percent renewable energy to be generated 24/7, in a way that is flexible, dependable, and safe," explained the Energy Minister, Juan Carlos Jobet.
How has Chile's energy matrix changed?
Over the past ten years, the development of clean energy in Chile has been significant. Our installed capacity of non-conventional renewable energy (NCRE) was 540 MW in 2011 and is now 11 times higher. By the end of 2020, its capacity within the National Electricity System had reached 6,113 MW.
Chile's goal was to have an installed generation capacity in NCRE plants equivalent to 20% of the country's energy matrix by 2025. Carlos Finat, Executive Director of the Asociación Chilena de Energías Renovables y Almacenamiento (Chilean Association of Renewable Energies and Storage, ACERA), which today has more than 150 members, explained that this objective has been far exceeded.
"Today, the contribution of NCRE is 23%. We think that this year will finish with a figure around 25%. In other words, a quarter of the national demand for energy will be supplied by NCRE," Mr. Finat stated.
What is more, in 2020 the installed capacity of photovoltaic solar power plants and wind farms had already surpassed that of coal-powered thermoelectric plants. While solar energy has a greater installed capacity, last July wind power provided more energy to the Chilean grid, according to data from the National Energy Commission.
Araucanía is the Chilean region that produces the second highest amount of wind power, after the Atacama Region. Renaico, 143 kilometers north of Temuco, is also known as the "wind capital", thanks to climatic conditions that support the development of wind power projects.
The development of renewables in Chile
But these are not the only winds of change. From the north to the south of Chile, we find all types of energy production. If the north was once known for its solar panels, it is also now recognized for the development of thermosolar energy. From the Maule Region to Los Ríos, the use of biomass is expanding alongside wind power. This is one of the effects of the development of clean energies in Chile over the past years, according to José Ignacio Escobar, General Director of Acciona Energía Chile.
First, Chile went from having four companies that generated its electricity to having more than 40. Furthermore, production has spread throughout the national territory. There are solar, wind, and hydro projects distributed throughout Chile. Mr. Escobar commented that this has allowed greater decentralization and regional development, new employment opportunities have been created, and there is now a third industry in areas that were once dedicated to agriculture or forestry: renewable energy.
Business opportunities in renewable energy
There is no single energy source that is able to make Chile's energy matrix completely clean. This would prove difficult even if we combined wind and solar sources. When night falls, the photovoltaic panels stop generating energy; with no wind, the turbines do not turn. Today, people are talking about an "optimal mix". The concept has been coined by Rodrigo Palma, Director of the Energy Center at the Universidad de Chile, which is researching the question of energy and working with communities to provide decentralized energy solutions.
"Solar power can provide energy during the day, but its performance is poor at night. Wind complements solar power. If we add hydraulic, energy can be regulated for hours, weeks, and even months through the use of dams. This also complements the other energy sources. Biomass can also be calculated, as it is available during certain periods of the year, but not during others. When we see that all these types of NCRE are able to complement each other, we can start trying to identify the optimal mix for Chile, to ensure that it does not put all of its eggs in one basket," Mr. Palma explains.
Chile has 6,435 kilometers of Pacific coastline. The immensity of the sea and the dynamics of the waves present a captivating natural spectacle. It is common to see how the wind helps the waves on this marine surface to twist and curve, before breaking a few meters from the shore. This very same natural phenomenon is the key that converts the seas into a source of renewable marine energy. The potential of the Chilean coasts was revealed in the first marine energy map.
The sea as renewable energy
Mr. Palma explains that there are several types of marine energy. There is tidal, wave, marine current, and salinity gradient energy. Of these, two are the most well-known: wave motor and tidal motor. The first extracts kinetic and potential energy generated by the movement of the waves and transforms them into electric energy. The second uses the movement of the currents that are generated by the tides in specific coastal locations.
There are also further alternatives. Geothermal production makes use of the Earth's internal heat to generate energy. When an area possesses many volcanoes –Chile has about 150 active volcanoes– the underground heat is closer to the surface and is easier to make use of throughout the day. Chile has a geothermal potential of 3,000 MW, although development in this area remains embryonic.
"Chile is tremendously rich in energy, but not in petrol, carbon, or natural gas. We have discovered that we have a practically infinite wealth of clean energy," explains the Executive Director of ACERA.
A green future for Chile
2021 will be the year of renewable energy. Its contribution to the national grid during January and February reached 25.8%, and renewable energy projects now have a total installed production of 23,516 megawatts.
"We have solar, wind, biomass, geothermal, marine, and hydraulic energy. This is infinite. In practice, considering projects that are still in the pipeline, we could meet Chile's current demand for electricity 60 times over," Mr. Finat asserts.
The unstoppable rise of clean energy generation has come at a key moment. Chile has given itself the goal of becoming carbon neutral by 2050. This means retiring all of its carbon-based capacity by 2040.
"This is the decade in which Chile consolidates as a clean energy country. Our potential for generating electricity using renewable energy is 70 times greater than what we currently have installed. NCRE will make up 40% of the matrix by 2030. In the following weeks, we will enter a bill that will double the obligation of NCRE quotas in the National Electricity System, going from 20 to 40 percent by the end of the decade," the Energy Minister states.
However, a green future that counts on clean energy and a focus on environmental care presents many more challenges than simply energy production. One of these, Mr. Finat and Mr. Escobar explain, is the inclusion of communities in energy projects and the conversation that takes place between the human and natural environment in the development of a project. It is not just about renewable energy, Mr. Escobar says, it has to be about the whole project.
Electrification is another challenge. Energy surrounds us. It is everywhere. We use it to eat, to work, to get around. Its uses are as varied as human activity. The arrival of NCRE has contributed to reducing both local contamination and the carbon dioxide released by the electricity sector. Because of this, electrification is seen as one of the pillars of an emission-free future.
"Electricity is like the heart of the system. This heart has to be renewable. It has to be capable of nourishing the rest of the body, so that all the energy that we use in Chile can be decarbonized. Transport, heating, industrial processes, mining; renewables play an essential role in all of these. We use energy in everything that we do and because of this we have to review the ways that we produce and consume energy. To invest in renewable energy is to invest in the planet," explains the General Director of Acciona Energía Chile.
To find out more about investment opportunities in Chile's energy sector, please read the following article.
Source: Pulso