While at first they were a tool to teach programming, nowadays their uses have expanded to work with curriculum-related content. With them, children learn abstract subjects that were previously taught on the blackboard.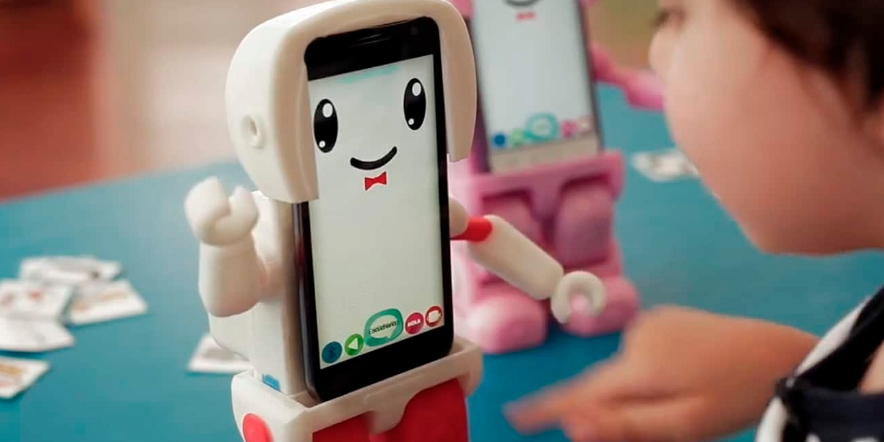 "It's amazing the effect it has on the children when the robot says their names and asks them something about the story they just heard. They pay attention and work with pleasure," says Claudio Garrido, instructional coordinator and head of educational IT at the Andrés Bello school from Chiguayante, a city of 80,000 inhabitants, located about 520 kilometers south of Santiago de Chile.
It is there that they are using 10 Sima social robots, created by Chileans, that can move arms and legs to walk and dance. Their brain – as well as their face and voice - is a smartphone that attaches to the front of their bodies.
"Pre-school children use it for reading comprehension. We were trained to personalize content, for example, for the robot to read a story and then ask questions using the names of each of the children," adds Garrido.
This is one of the areas in which educational robotics is used in Chile. "It's different when children work in a digital or virtual environment, to when they do it with a social robot, which is something concrete and has its own personality. There is more empathy with the educational tool," says Virginia Días, in charge of Sima's educational implementation.
The robot has previously programmed content that can be used to teach letters, numbers, colors and emotions to preschool children. But it can also be customized by teachers, with their own content, through an easy to use platform that can be shared among teachers.
One of the first approaches between education and robotics followed the emergence of tournaments. The First Lego League, a robotics championship in which 13,600 students have taken part, has been held since 2007 in Chile.
"There are very few schools that use robotics in the curriculum, but they offer robotics classes where the technique is taught to them. Our methodology poses a new challenge every year, which the children must investigate and learn for months. The robot's competence revolves around this challenge, which we believe is more attractive than learning robotics as an end in and of itself, "says Lith Pastén, project manager of Spark Talents, a foundation run by First Lego League in Chile.
The organization has also trained teachers for the pedagogical use of robots. "At San Ignacio El Bosque School, it has been used to explain the water cycle and a teacher will use it to teach how neurons work, making an analogy with robots," says Pablo Torres, in charge of Innovation and Educational Technology at the school.
Hugo Martínez, pedagogical director of Colegium, explains that one of the main advantages of robotics is to get students motivated and provide concrete applications to content that is usually very abstract.
It is fundamental, he says, that exploratory activities are favored, where inquiry is the preferred way of learning. "As such, it is necessary to train teachers not only in technical aspects of robotics, but also in the design of methodologies where the protagonist is the student."
Professor Patricio Acuña, a finalist in the Global Teacher Prize Chile, has long experimented with robotics, and he has even participated with his students in tournaments. He also designed an induction course on the topic for teachers in Educarchile. "In robotics, unlike learning only programming, everything is concrete and subject to environmental variables. Your robot has to react to humidity, the type of surface it is on, temperature. Managing those variables and overcoming challenges makes children learn," he explains.
"With tools such as Scratch, a simple and intuitive programming language, there are no more gaps in programming a robot," says Patricio Paredes, of Zambeca, an educational robot company that sells Mbot robots, present in more than a hundred schools.
The multiple sensors on a robot allow children to focus on experimentation, since the data is collected by the robot, says the specialist.
"It is used by English, mathematics or physics teachers. There are teachers who have their students modify variables so that they understand the difference between uniformly accelerated or uniformly continuous movement or, for example, when deceleration occurs. They change the formula and then they see what happens with the robot's movements," Paredes explains.
Chile is a country that is full of talent. To know more, check out the following article.
Source: El Mercurio / Simarobot