Chile is a pole of innovation in different fields, including fashion. Fabrics of biological origin, the use of unconventional materials, smart clothes and technology applied to day-to-day clothing are just some of the inventions with which the Chilean designers are surprising the fashion world.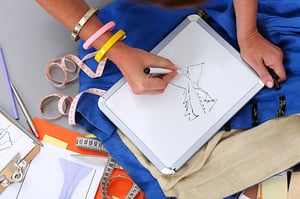 There is a rather strange smell this afternoon at FabLab Santiago. It comes from a room of this Digital Manufacturing Laboratory where Camila Ríos, a 31-year-old designer and lecturer at the Catholic University, has left kombucha (Manchurian mushrooms) to ferment in containers so that the bacteria multiply and produce a biotextile or, in other words, a fabric of biological origin.
The bacteria are left to dry in small pots or tubs, depending on what they are going to be used for. It is a slow process. The microorganisms grow for one to two months and are then dried for a couple of weeks as they gradually take the form of a brownish semi-transparent fabric that can be cut, sewn, folded, washed and even dyed, like any common fabric.
We are still not making clothes with these fabrics, we are in the research phase. For example, we need to correct the issue of the bad smell. The idea later is to go on to develop products," says Camila, whose company, Open Textiles, has just obtained a grant from Fondart, the state fund for the development of the arts and culture, to support her research into these innovative textiles. The idea is to open avenues for the fashion industry that offer new options as regards sustainability and have a low environmental impact.
Camila is inspired by the work of the English artist Suzanne Lee who, at the beginning of this century, started to experiment with making clothes of cellulose with a bacterial origin. Her biker jacket with prints, based on mountain-wear sweaters, is a sort of icon of the possibilities offered by this new way of making fabrics.
Following in her footsteps, at the other end of the world, Camila not only works on her own biotextiles but also regularly gives bio-manufacturing workshops for about 15 students. Through Open Textiles, she also coordinates workshops about 3D printing on fabrics and, for example, how to create applications with relief for jackets or skirts or how to produce new fabrics directly.
Demand is high.
"Some students are architects and designers but there are also plenty of business administrators," says Camila. They are mostly young people who have just graduated. What unites them, she says, is a concept that is fashionable today: the search for innovation, an urgency to expand the options offered by the future.
Wired clothes
Camila believes that today's fashion market harms the environment, scorns small producers and even reduces the value attributed to products that are ever more disposable. In this context, she explains, her work with bacteria represents an alternative for creating clothes through non-polluting processes, which can even take advantage of waste that would otherwise go to landfills.
But Camila is not only working with microorganisms. She is also interested in exploring the use of e-textiles, a term used to refer to electronic technology applied to fabrics. In this area, she says, progress has been greater and it is possible to make products that can enter the commercial circuit.
In her e-textile workshops, students review basic concepts of electronics and then learn to incorporate them into fabrics, using conductive thread and other elements.
"What can be made with these fabrics? For example, vests that incorporate GPS for older people with Alzheimer's to help find them if they get lost," she suggests.
Camila started working on projects of this type in 2015. However, she is not the only one to have taken this path. In 2013, 45-year-old María José Ríos, a visual artist, began to research the same idea and, under the Vestibles brand, created interactive clothing that can, for example, react to light. These garments were true "wearable paintings or sculptures", as she herself defines them, "usable by certain types of people and for certain types of occasions".
Today, María José is also working on a project to offer personalized clothing with electronic details - for example, t-shirts with the person's name in LED lights or patches of lights that can be removed when washing the clothes.
"I like the idea of 'hacking' clothes," she says, showing clothes and accessories in which she has sewn chips, memory cards, sensors of various types and mini-speakers. "This is all very experimental. The idea is to produce pieces that are unique and highly decorated, closer to art than to commercial products," she explains.
For María José, her proposal is "a laboratory of constant research". A way to transform fabrics into interfaces that can interact with their environment, as if they had a life of their own.
Luz Briceño, known for her LaJoya Design brand, is perhaps the only designer who has sought to use new technologies in a straightforwardly commercial way. Together with two partners - Rocío Cassis and Soledad Silva - she created The Copper Company, which focuses on the development of "smart" fabrics" through the use of metallic fibers. They take advantage of the benefits of copper - and its ready availability in Chile - to fulfill various functions.
What does her company offer? Copper cotton, a fabric that mixes practicality and durability of polyester with the naturalness of cotton and also prevents the proliferation of bacteria. One of its products is a 300-thread-count sheet with copper incorporated, ideal for hotels. It also makes fabrics for safety clothing, with luminescent, anti-mosquito, thermal or anti-fluid attributes or, in other words, in the latter case, resistant to water and splashes.
"Our technology has tremendous potential to prevent the regeneration of bacteria associated with work in environments exposed to cold, humidity and fire," she explains.
"The level of product innovation in Chilean textile companies is almost zero, which is understandable in a market like ours. With her project, Luz is the exception that proves the rule," says Bárbara Pino, director of the Diego Portales University's Modus fashion observatory.
Why and what for?
Barring exceptions - like the cases of María José, Camila and Luz - the use of new technologies in Chile has been confined mostly to the academic sphere. At the Diego Portales University, for example, Karina Vukovic leads a workshop that is developing clothing related to mental and physical illnesses. The idea is to see how clothes can help children with butterfly skin and other problems. The workshop has also developed a bra with biomagnetism to help women with epilepsy.
Through its Desafío Alta Moda (High Fashion Challenge) project, Duoc UC's Fashion Design School in Viña del Mar has also been researching the use of technology in clothing for some time.
"The aim is to promote fashion concepts, techniques and processes from a contemporary perspective, seeking to integrate handicraft skills with the potential of technology. The challenge is to incorporate experimentation with new materials and digital technologies without neglecting meticulous expert manual work," says course director, Vivian Urmeneta.
In line with this, the students have worked mainly with more accessible and less experimental options such as laser cutting through which to make millimetrically accurate cutouts and very elaborate designs. Some students have, however, also ventured into LED lights, heat fusion of waste plastics and wiring of different types.
At present, the technology most commonly used by both students and practicing designers is undoubtedly sublimation. This system uses special inks and a thermal plate which, when entering into contact with fabrics with synthetic polymers, produce a chemical reaction that transforms the ink into a gas that is fixed permanently on the surface of the fabric. In this way, it is possible to take a completely original design straight from the computer screen to a dress or t-shirt.
Source: El Mercurio
To learn more about advances in innovation and development in Chile, go to this article.