Foreign investment in renewable energy is reaching every corner of Chile. In the north of the country, the Atacama Desert is the perfect setting to install photovoltaic panels, benefiting the entire community.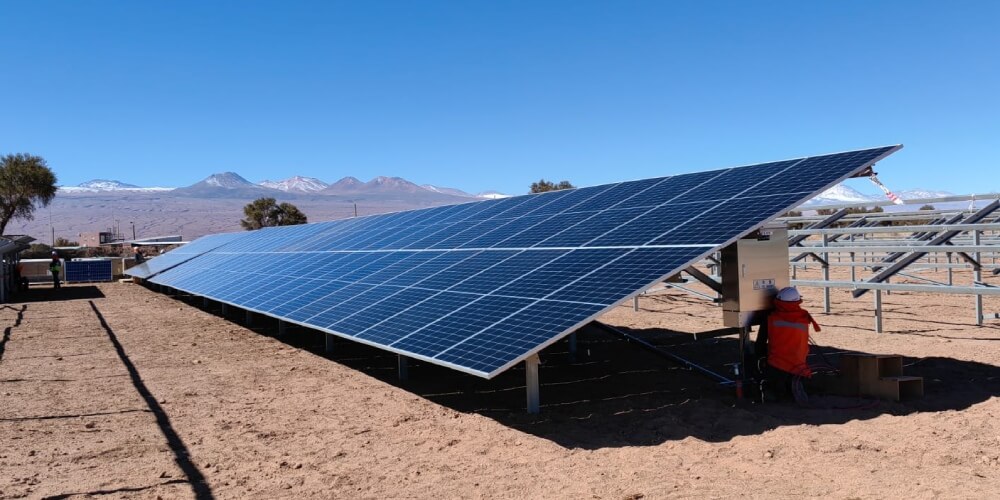 San Pedro de Atacama is a municipality in northern Chile, located some 1,700 kilometers from Santiago. It is considered the gateway to one of the largest and driest deserts in the world: the Atacama Desert.
Over the past few decades, San Pedro de Atacama has become one of the main tourist destinations in Chile. From there, it is possible to visit the El Tatio Geysers, the Valle de la Luna (Valley of the Moon), and the Los Flamencos National Reserve, as well as archaeological ruins and historical monuments.
The growth of the urban sector of San Pedro de Atacama has translated into greater demand. In turn, this has created the need for an electrical distribution system, since the area lies outside of the concession zones for distributors who are part of the National Electric System.
The Cooperativa Eléctrica de San Pedro de Atacama (San Pedro de Atacama Electric Cooperative, CESPA) was created in 2001. Its main goal is to supply electricity to San Pedro de Atacama and Toconao. The latter implies the use of seven generators powered by internal combustion engines that run on gas and diesel. They are high-polluting and high-cost equipment.
The best solar radiation in the world
In the last few years, the cost of photovoltaic systems in Chile has dropped, and San Pedro de Atacama is the area with the highest rates of solar radiation in the world. Within this panorama, CESPA opened a tender in 2019 to renew and/or replace its energy matrix.
The process ended with Synertec being awarded the project in February 2021. The company proposed the implementation of a 2 MWp photovoltaic plant to CESPA, to be built in a sector adjacent to the existing thermal generation plant and thus integrated into the distribution network.
Thanks to a loan from Banco Estado, CESPA began construction of the 3,750-panel photovoltaic park in April of this year. It was connected to the CESPA power system in August. To date, it has made it possible to significantly reduce fossil fuel consumption.
Chile is the most attractive country to invest in renewable energy in the Americas, according to the latest Climatescope report prepared by Bloomberg. Solar parks and wind turbines can already be seen up and down the country.
Relationship with the local community
The company has donated a 100% electric vehicle and photovoltaic charging system as part of the project. It will be used by the JURIQUE Rehabilitation Center, an organization that cares for patients from the Calama Teletón charity center in the area.
This is part of a series of donations by Korean companies organized by the Embassy of the Republic of Korea to commemorate 60 years of bilateral relations between the country and Chile.