Hummus, a salad and carrot cake. This is what the Yape robot of Italy's e-Novia delivered last Monday to Patrik Bergareche, CEO of Just Eat, in a demonstration that food delivery robots are already a reality.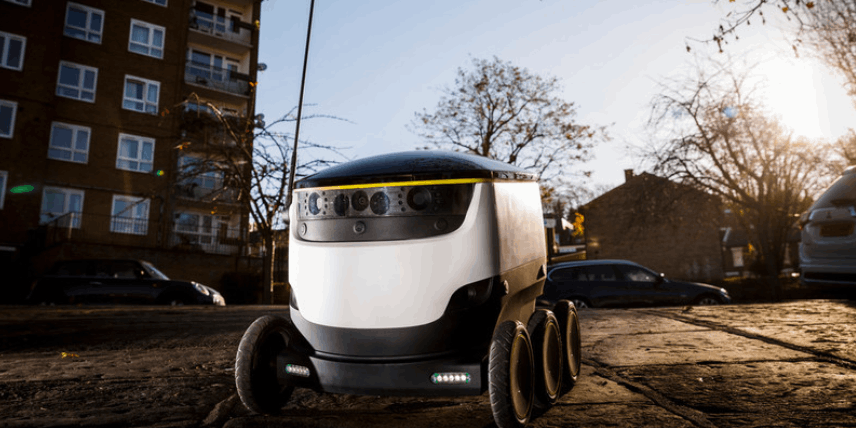 The company has been working with robots since 2016 when it made the first real delivery in Greenwich, southeast of London, thanks to a collaboration with British start-up Starship Technologies. In Spain, however, technology of this type had not previously been tested publicly.
It was at the Horeca Professional Expo (HIP), held at the IFEMA complex, that the Just Eat robot demonstrated its capabilities. "The user places an order and the application warns that a robot will make the delivery. It seems easy but you have to make people aware that, when they open the door, they will see a robot, not a human being," explains Bergareche.
Yape's short delivery journey at IFEMA, just over 50 meters, showed that it is able to detect obstacles, stop if someone crosses in front of it and reach its destination without problems (including brake and turning lights). "We started to work with robots in a very experimental way to see the impact they have for the consumer and for restaurants. If you open the door of your house and see this robot, it is a shock. However, after several years of studying this (we have delivered up to 1,000 orders in controlled spaces), we have learned a lot. Now the problem is regulation because it is still not adapted to reaching the general public. It is estimated that, in Spain, category 5 vehicles of this type will be able to start circulating as from 2024, when there is regulation for totally autonomous vehicles," says Bergareche.
Will these technologies replace existing delivery personnel? "They play their role very well as a complement to home delivery of food. They are not going to replace humans; they are simply going to help them, for example at peak times. In our case, we do not have freelancers as employees so it is difficult to cover a sudden increase in demand in a neighborhood. Another example of their use would be for ultra-short distances where it doesn't make economic sense to send a delivery person," he adds.
According to the delivery company, it will not be responsible for developing this technology, but will continue to observe it and seek to understand it through pilots in order to be in a position to benefit from it in the not too distant future. "The use of robots can help solve real economy problems such as the environment or accidents."
Just Eat is not the only company working with robots for home delivery. Amazon launched Scout in 2019 to test the delivery of packages by robots while Wing, a company belonging to Google Alphabet, has obtained permission to deliver with drones.
To find out more about investment opportunities and technology advances in Chile, see this article.
Source: Expansión